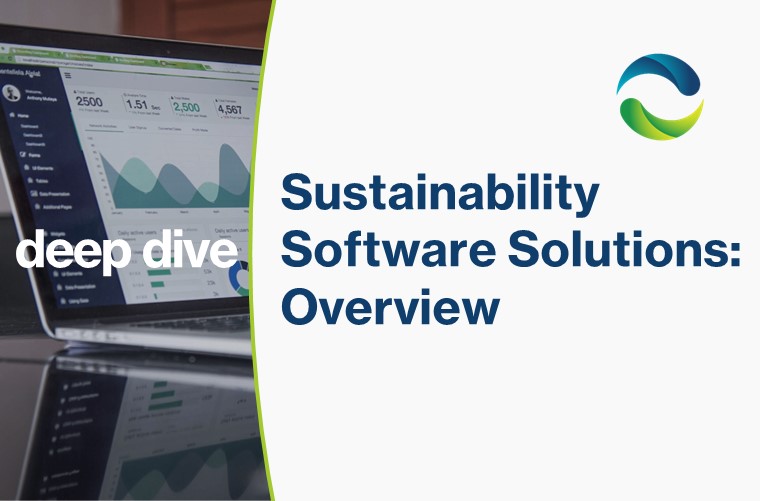 Overview of more than two dozen sustainability software solutions to help CSOs collaborate with CFOs and CIOs

The Climate Board has conducted an extensive review of sustainability software solutions available in the market. Over the past 3-5 years, this market has experienced significant expansion, resulting in a highly fragmented landscape with more than 200 firms offering various platforms for companies to track, manage, evaluate, and report on their sustainability efforts. We anticipate that the market demand will continue to grow in the coming years. We also expect further consolidation within the sustainability software solutions industry as its most successful players emerge to capture a dominant share of the market.
The firms offering these solutions can be categorized as follows:

ERP/Platform Providers: These ERP (enterprise resource planning) providers are large-cap software vendors that offer a platform allowing companies to customize and enhance their existing frameworks to create a tailored sustainability solution.

EHSQ Providers: These are companies that have long-established Environmental, Health, Safety, and Quality offerings and have recently entered the field of sustainability reporting, as well as the broader area of Environmental, Social, and Governance (ESG) considerations.

Venture-Backed Pure Play: These are solutions that have raised venture capital within the last 3-5 years and focus solely on providing sustainability or ESG solutions.

Our analysis extensively covered various features and capabilities, including industry focus, emissions measurement, strategy and goal setting, sustainability reporting, peer benchmarking, carbon calculations, consulting services, software integrations, and technology partnerships. We also evaluated the size and maturity of the firms and their sustainability solutions. The data was collected through internet research as well as in-person demonstrations and Q&A sessions.
By cutting through the noise, this tool empowers CSOs to collaborate with CFOs and CIOs in identifying a sustainability solution that aligns with their strategic goals as well as their data and systems architecture requirements.
This research is available to members of The Climate Board. For more information on membership or to talk with a member of our research team, please contact us.