Last week, the California Air Resources Board approved the Advanced Clean Cars II rule, which stipulates that all new cars sold in the state be zero-emissions vehicles (ZEVs) by 2035. The rule provides strong momentum to phase out the sale of gas-powered vehicles. It has the potential to evolve the electric vehicle landscape not only on the state level but also nationwide, as California holds substantial sway over the auto industry. As of 2021, 11.8% of new passenger car sales in the US occurred in California, making the state the leader in car sales.
Requirements and eligibility:
The 2035 ban applies to automakers (not dealers) selling new cars in California. Therefore, used gas-powered cars may still be sold, and existing gas-powered vehicles may still be owned and driven. The new rule sets two interim targets: 35% of new cars sold must be zero-emission by 2026, and 68% by 2030. To meet the 100% requirement by 2035, automakers can deliver plug-in hybrid, battery electric, and hydrogen fuel cell vehicles.
Implications:
As the first state to ban the sale of new gas-powered vehicles, California is a leader in not only national car sales but also clean car standards. So, what does being the first look like? Is the ban feasible? Here are some of the implications of the new rule:
Automakers already are on track to meet electric vehicle requirements. As of 2022, 16% of new car sales in California are ZEVs, a twofold increase since 2020. The rule sets interim targets, enabling a gradual transition for automakers—many of whom already have their own commitments to vehicle electrification.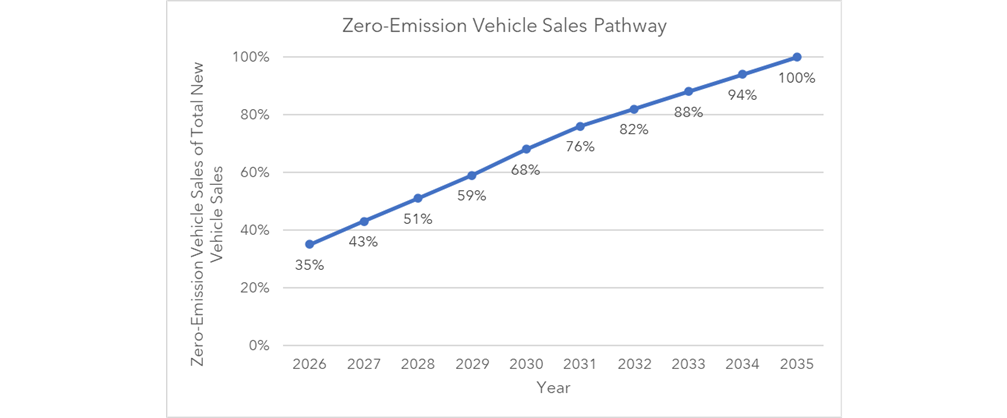 adapted from California Air Resources Board, 2022
The ban will provide momentum for ZEV affordability. Understandably, the rule has introduced concerns over environmental justice and the cost burden on consumers. Several actions and trends may help ease these worries:

The Inflation Reduction Act offers a federal tax credit of up to $7,500 on eligible electric vehicles. With eligibility limits on vehicle price and buyer income, the credit particularly serves lower-income households.
Despite higher upfront costs, the total cost of ownership of electric vehicles is often lower than that of gas-powered cars. Savings on fuel and maintenance, combined with the aforementioned tax credit, quickly cover the cost difference. At present, the payback period for electric vehicles is between five and six years.
The rule necessitates greater production of and research on EVs, which will help these vehicles reach cost parity with gas-powered cars. The International Council on Clean Transportation projects that the price of the average electric vehicle will be equal to that of the average gas-powered vehicle by 2030.

Gas cars aren't going away entirely. The ban only applies to the sale of new vehicles in California, meaning that existing gas-powered cars may still be driven and that used gas-powered cars may still be sold after 2035. As a result, consumers are permitted to cross state lines to purchase new gas-powered vehicles. The average vehicle is on American roads for just over 12 years, according to S&P Global Mobility. So, just because the sale of ZEVs is required to reach 100% does not mean that gas cars will disappear any time in the near future. In fact, even though 16% of new car sales in California are ZEVs, less than 4% of registered vehicles in California are battery electric, plug-in hybrid, or hydrogen fuel cell.
Meeting the requirement will require a major boost in EV charging infrastructure. California is aiming to install 250,000 EV charging ports by 2025. With less than three years remaining, the state has under 80,000 public and shared chargers installed to date. Significant progress is needed to ensure sufficient charging infrastructure is available to support the transition away from gas-powered cars.
Other states are following suit. As a leader in clean car standards, California has paved the way for other US states to consider similar initiatives. States that already have announced similar plans or are expected to follow suit include New York, Massachusetts, Vermont, Maine, Pennsylvania, Connecticut, Rhode Island, Washington, Oregon, New Jersey, Maryland, Delaware, Colorado, and Minnesota, which collectively constitute about 40% of new car sales in the US.
The Advanced Clean Cars II rule is far from polished and does not come without doubts surrounding viability, affordability, and infrastructure. However, it is a step in the right direction. As a leader in both car sales and clean vehicle standards, California has the potential to change the electric vehicle landscape and provide growing momentum for the phase-out of gas-powered cars.
For business leaders with interests in or commitments to electrify their fleets, California's new Advanced Clean Cars II rule is a significant development that could move electrification timelines forward. Though this rule does not require companies to purchase electric vehicles, it will push manufacturers to prioritize EV production, bring EV prices toward parity with gas-powered vehicles more quickly, and aid the development of robust national charging infrastructure. While the transition of fleets toward EVs still requires initial capital investment and stakeholder buy-in, this rule will further tip the scales toward the adoption of zero-emissions vehicles by those interested in leading their industries in decarbonization. The Climate Board is actively researching best practices and key considerations for how companies can electrify their fleets to reap the maximum financial, operational, and reputational benefits. Reach out to our team at www.theclimateboard.com/contact/ to learn more.